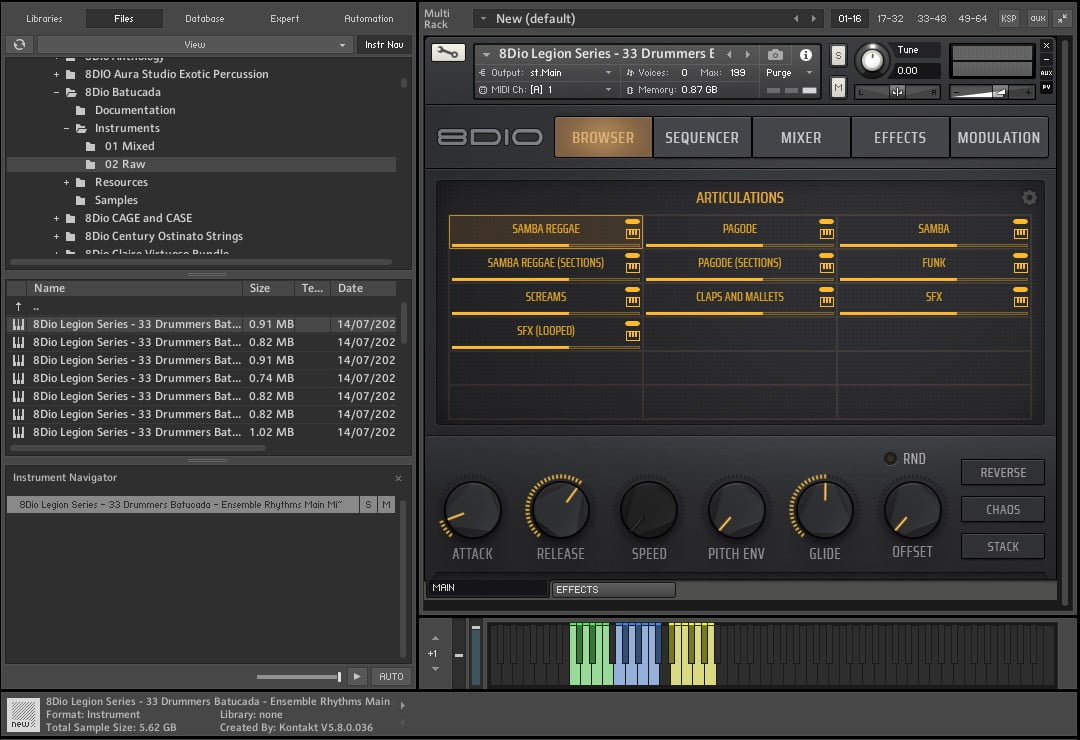 Publisher: 8Dio
Website: 8dio.com
Format: KONTAKT 5.8.0 or higher
Quality: 24 bit 48 kHz stereo
---
Description:
Batucada is a Brazilian percussion group that traditionally accompanies parades of costumed dancers at Brazilian carnivals. The sound of Batucada is incredibly powerful and can be useful even to the loudest rock bands. The discipline required to organize and maintain such tight, seamless drumming is amazing, and working with these percussion experts was a pleasure.
The 'Legion Series 33 Drummers' features not only an ensemble of 33 drummers playing in unison, but also sections for a total of 88 drums.
All drums were sampled in separate sections and two solos. As a result, we have the most thorough Batucada library you will ever need. The distribution contains a Samples.iso image from which to unpack the Samples folder. The image is necessary due to the fact that there are about one hundred thousand (!) Files in this folder, which otherwise would not fit into a valid torrent file.
Additional Information :
40 GB compressed to 19.8 GB (97,680 Samples)
Deep Sampled Batucada Percussion Ensemble
11 Instrument types sampled solo and in sections
Up to 33 Drummers playing in unison
Multiple Rhythmic Variations
Samba reggae, Samba, Pagode, and Funk Styles
Multiple Microphone Positions
Advanced UI with 4-part XY Effects Engine
Product only available as Direct Download
Full Retail Version of Kontakt 5.8 (or later) Required
Composition :
5 Timbas, 9 Tamborims, 6 Guaches, 11 Chocalhos, 12 Caixas (snares), 12 Repiniques, 12 Surdos (4 Bass Players, 4 mid Players, and 4 high Players), 11 Dobras and 10 Cowbells
Preparing the library for use:
Mount the Samples.iso disk image to any virtual disk drive and extract the Samples folder from it. Or extract with 7zip or WinRar. Done.
---