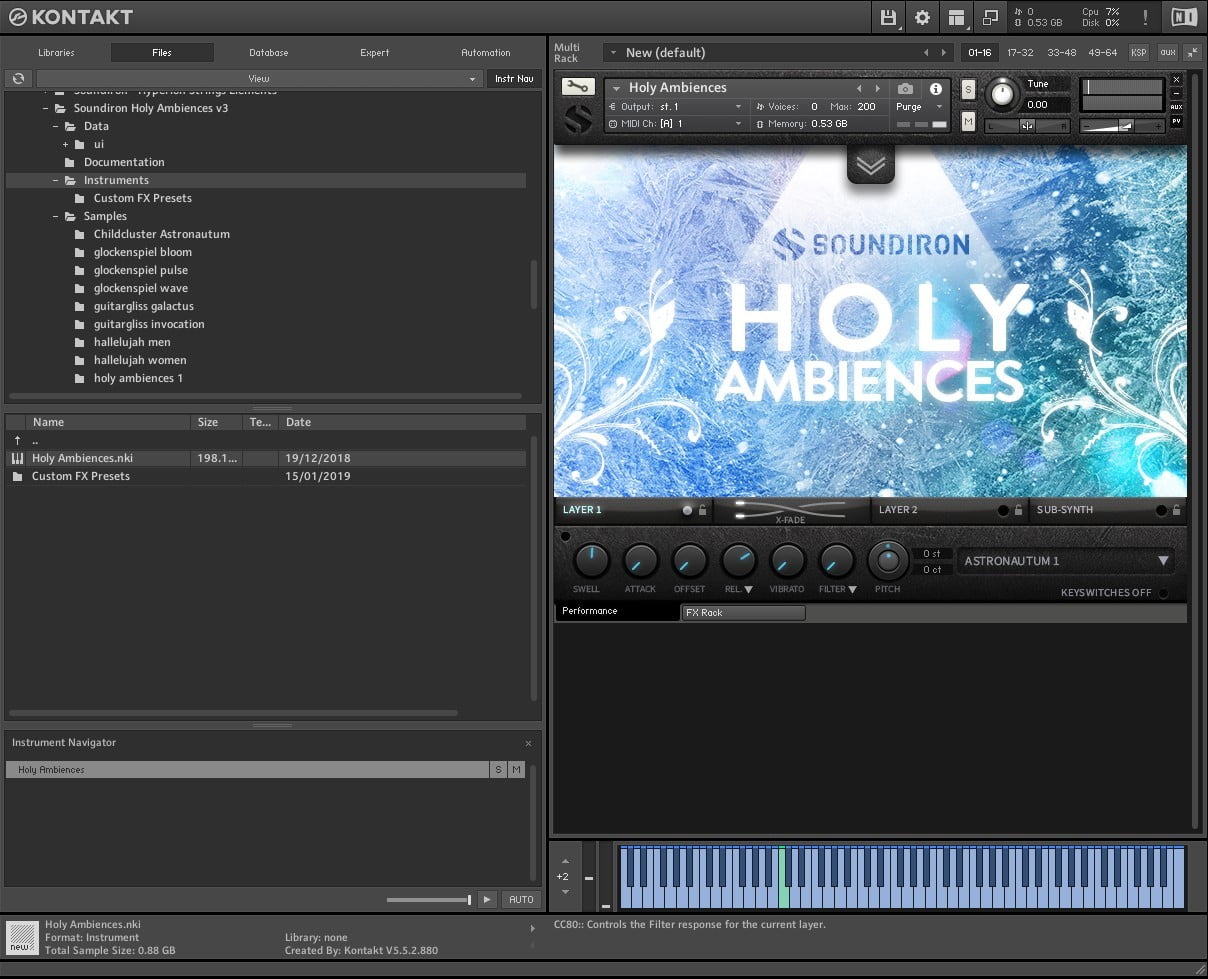 Publisher: Soundiron
Website: Soundiron
Format: KONTAKT
Quality: 24 bit 48 kHz stereo
---
Description: Holy Ambiences is an ambient synthesizer, evolving soundscape and sound-developed ambient sample library for composers and sound engineers. It reflects a wintery, icy mood with shimmery and sparkling textures, lush mystical backgrounds, warm musical spots and a mysterious atmosphere. We originally created it as the perfect small companion library for winter and holiday-themed music production and sound design, but over the years it has grown into a versatile collection of space synthesis and instrumental environment patches that will come in handy across all genres of music. genres.
There are 18 sound categories, filled with long one-shot sounds and infinitely looping sustains. These hand-crafted sounds are rich in detail and full of unique flavor. Most are strongly tonal, while others are clustery or abstract. They're all designed to sound great played at their root pitch or retuned anywhere across the entire key range.
CONTENTS
The Kontakt interface includes a suite of automation-ready sound-shaping controls to give you total creative flexibility. You have control over swell, attack, release, offset, vibrato, filter, pitch (coarse & fine), articulation switching, cross-fading and layering, and so much more. We've also included 20 unique sound-designed custom FX presets to give you lots of creative options.
This library comes with an adaptable LFO system, with selectable LFO shape, modulation target parameter, speed, intensity, tempo-syncing and fade-in time. You can also apply your choice of 12 lowpass, high-pass and FX filters, with assignable modulation targets such as velocity, modwheel, expression, after-touch, key position and step-sequencer table control. Our customizable arpeggiator offers a velocity table and control over arp direction, timing, swing, randomization and duration. We've included a key and scale lock system to constrain your notes to common scales and keys for easy melodic composition and live performance.
The interface is rounded-out by our modular FX rack panel, with 18 different DSP effect modules that you can assign in any of 10 available slots, in any order that you wish. You'll find classic phaser, flanger, delay, distortion, amp and cab simulators, compressors, EQ, rotator and so much more. The Reverb effect includes our favorite convolution reverb impulse responses, including 99 different rooms, halls, chambers and outdoor environments, plus another 40 custom FX impulses to radically transform the sound and open up whole new worlds of musical possibility. We've added a great bank of FX rack chain factory presets to get you started!
10 unique Astronautum ambiences
15-note chromatic Glockenspiel Bloom ambience
4-note chromatic Glockenspiel Pulse ambience
15-note chromatic Glockenspiel Wave ambience
7-note chromatic Guitar Gliss ambience
7-note chromatic Guitar Invocation ambience
4-note chromatic "Hallelujah" Men's Choir ambience
4-note chromatic "Hallelujah" Women's Choir ambience
4-note chromatic Lakeside Organ Glorious ambience
4-note chromatic Lakeside Organ Warm ambience
7-note chromatic Piano Ripple ambience
5-note chromatic Sleighbell Mindscrape ambience
5-note chromatic Voxsyntar (solo vocal) ambience
4-note chromatic "Spiritum" Men's Choir ambience
4-note chromatic "Spiritum" Women's Choir ambience
19 Original "Holy" ambiences
6 "Holy Night" ambiences
Product Specs
1 master NKI instrument bank in open Kontakt format
20 Custom Sound-Designed FX and Ambient presets
Atmospheric sound-design and cinematic effects
125 stereo samples
975 MB Installed
24-bit, 48 kHz Stereo PCM Wav Format
Flexible and intuitive multi-layer user interface controls, with LFO, filter, glide, and arpeggiator.
Full FX rack with convolution reverb with custom rooms, halls, chambers & FX environments.
Please Note: The full unlocked retail version of Kontakt 5.5.2 or later is required for all instrument presets in this library. The free Kontakt Player, Libraries rack, Native Access, Komplete Kontrol and the "Add Library" import feature do not support this library. Windows 7 (or later) or OSX 10.9 (or later) is required.
Full version of Kontakt 5.5.2 or above required
---