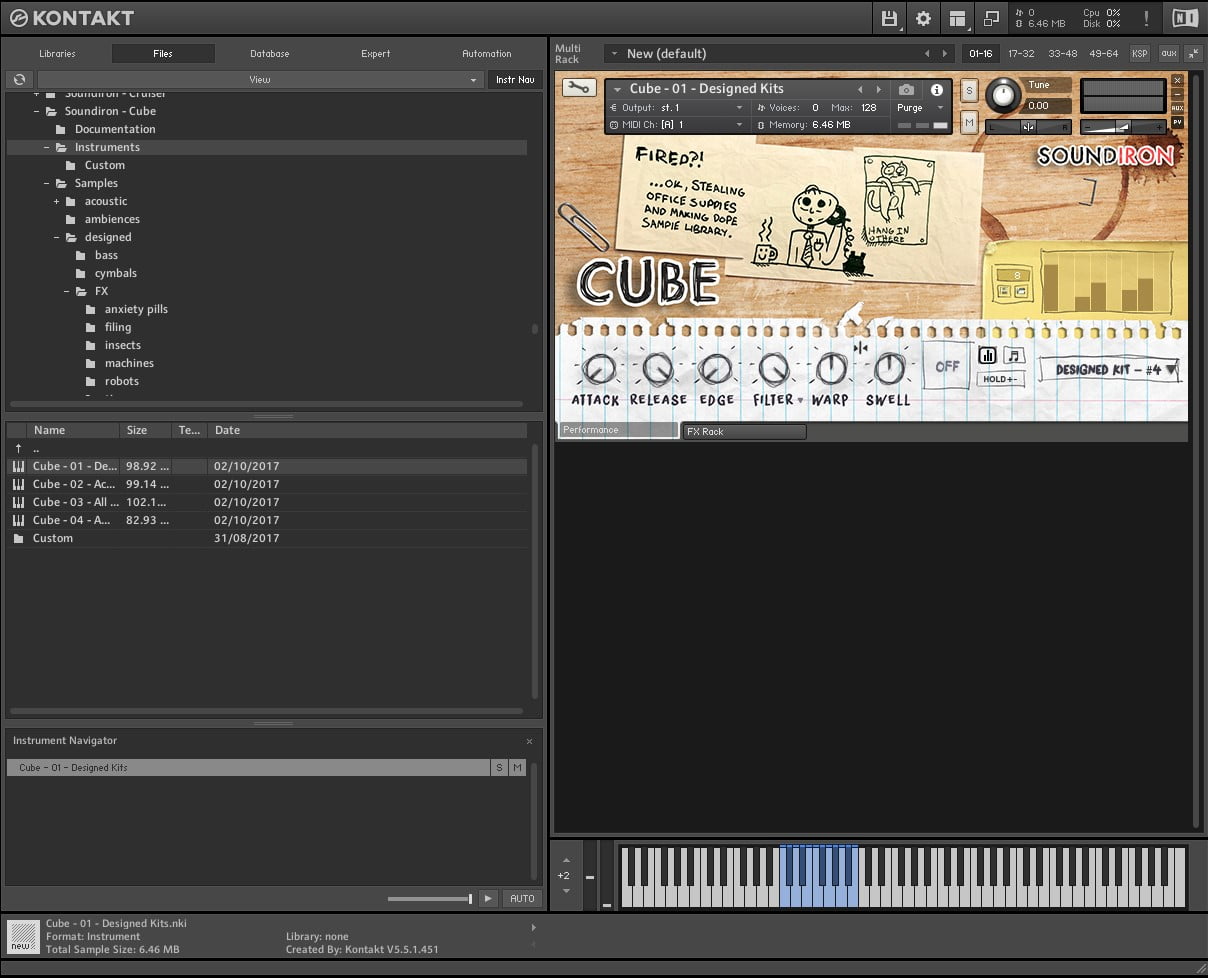 Publisher : Soundiron
Website : Soundiron
Format : KONTAKT
Quality : 24 bit 44.1 kHz stereo
---
---
Description : Cube is a collection of 521 gorgeous, crunchy percussion samples for office supplies – along with great sound designed for FX effects, stings, steps and lush ambient pads from our resident sound engineer Juno VHS. Each sound was designed using carefully selected sources, such as paper crunches, snapping pencils, faxes, water coolers, paper cups and all kinds of other sounds related to the office. Starting with the rumble of your last pill from anxiety and ending with juicy dreamy pillows (imagining an escape from your personal hell in the cockpit), Cube will provide your shift for your next game score, hot track or fancy animation.

This library is designed for the FULL retail version of Native Instruments Kontakt 5.5 or later!
---
---
Spanning an eclectic variety of punchy, clicky, plinky and glitchy sounds, Cube is ideal for any style of modern hybrid or electronic music production, from minimalist, Trap, EDM, IDM, dubstep, chillwave and glitch, to post rock, soundtrack, hip hop, downtempo, dub and ambient music.
It's also fantastic for sci-fi sound design and instant GUI SFX for your next video games and app project.
CONTENTS
Cube is made up of several different types of content:
– Designed Kits: After designing all the sounds, we scoured Cube for samples that roughly fit in a few traditional drum categories and assembled them into kits.
Each kit is mapped in a single octave, with kicks on C, cymbals on black / sharp keys, etc.
The "Designed" category is filled with very heavily manipulated, modern sounds.
– Acoustic Kits: The "Acoustic" kits are made up of less processed sounds procured during development.
These are raw shuffles, crumples, and crunches that lay in beautifully with the designed category.
– Effects: These are all the awesome sounds, FILLED with character that didn't fit into the kits, in both Acoustic and Designed varieties.
The Designed effects have been organized further into categories like anxiety pills, filing, insects, machines, robots, time warp, trash ball, and water cooler.
– Ambiences: As usual, we've included a heap of tonal and textural content to further flesh out your productions, maintaining the cohesive musical quality of this library
In addition to these categories, this library comes equipped with flexible control features, like attack, release, transient offset, dynamic swelling, filter type selection, resonant filter sweep and a robust Arpeggiator system that provides a full range of custom dynamic arpeggiation modes and step sequencer pattern creation options.
There's also a complete DSP effects rack, including convolution reverb with dozens of unique spaces, such as cathedrals, churches, halls, bunkers, garages, tunnels, chambers, rooms and plenty of otherworldly FX impulses to fully explore and endless variety of strange and unexpected sonic manipulations.
– 23 Instrument Presets with dozens of selectable articulations, performance controls, filter, pitch warping, vibrato / ring mod, Arp sequencing and full FX rack.
– Multi-mode Arpeggiation with step-sequencer.
– Convolution Reverb with 119 different cathedrals, churches, chambers, rooms, halls and special effect impulses.
– A full multi-effects rack, with EQ, filter, phaser, flanger, delay, distortion, amp & speaker simulation and more.
---