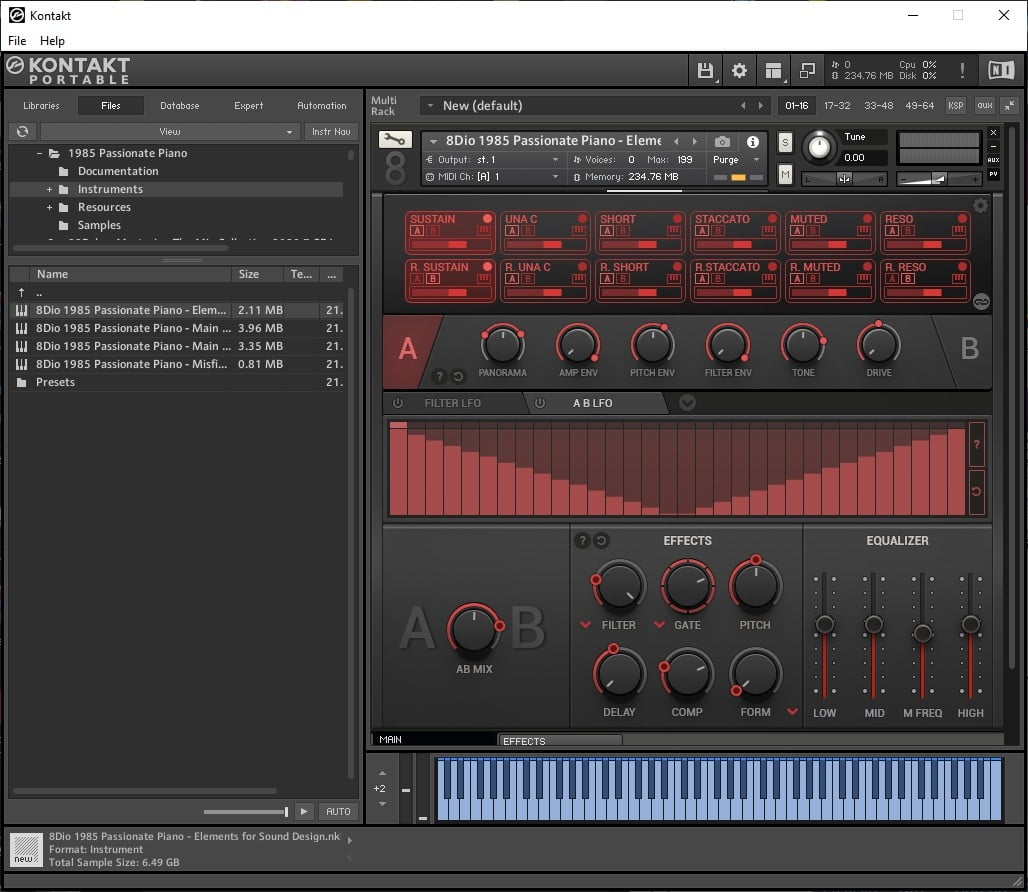 Publisher: 8dio
Website: 8dio
Format: KONTAKT FULL (K'ed) 5.6.6 +
Quality: 24 bit 44.1 kHz stereo
---
Description: 8Dio 1985 Passionate Grand Piano is an ultra-deep sampling piano library with over 66,000 samples, up to 10 velocity layers, 5 RRs, many flexible articulations and 6 microphone positions. Microphones literally surround the entire piano, so you can create exactly the sound you want. Whether it is approaching the strings or hearing from the position of the musicians. Whether it's darker piano tones or more ambient perspectives using room microphones. We used the best Neumann microphones (U87, Um57) and many other high quality studio microphones.
Elegant playability is equally important. Passionate Piano from 1985 plays smoothly on all velocities – with the beautiful, warm and wide sound of a real grand piano. You will not notice that these are samples, this is a real instrument at your fingertips. Full of life, personality, natural resonance and harmony.
Passionate Grand Piano includes deeply sampled sustains as well as Una Corda (felt piano), Staccatissimo and Staccato. The short note staccato was recorded with 5 RR on a velocity loop – offering you the ability to play incredibly fast chunks with a clear definition of the sound's attack. It feels and sounds perfectly realistic. Passionate Piano also contains our latest Chaos FX designed for sound design. We've included many of our new configurable texture convolutional delays, which give the instrument the ability to delay textures from other sound sources than piano.
The 8Dio Passionate Grand Piano is simply a real piece! Recorded with real analog vintage gear and 6 independent microphone positions. Contains a deeper spirit of the instrument. 66,000 samples, up to 10 layers of velocity and a virtual instrument built for the compositional mind and happy fingers!
Characteristics :
66.000 samples 22.4GB (compressed from 67 GB)
Up to 10 Velocity Layers
6 Pro Microphone Positions (Mix, Close, Ears, Bottom, Mid, Far)
5 Round Robin Repetitions
Custom Convolution Reverbs (+100)
Sound Design Patch / w Independent Piano Elements
Advanced Chaos Effects Systems
Product only available as Direct Download
Core Articulations:
Sustains (up to 10 velocities)
Una corda
Short / Staccatissimo (5 round-robin)
Staccato (5 round-robin)
Sound Design Piano Elements:
Sustain
Una corda
Short
Staccato
Muted Attacks
Resonance
Sustain Reversed
Una corda reversed
Short reversed
Staccato Reversed
Muted Attacks Reversed
Resonance reversed
Presets (15):
80s
Bass
Bouncing
Come and go
Delayed Bass
Driven spots
Growling
Happy gate
Late Night Scoring Piano
Longest
Metallic
Misfit bass
Misfit spiccato
Mittens
Nostalgic Pad
Reborn
Retro vintage
Short valse
Spatial Cembalo
Spatial
Vocal
---