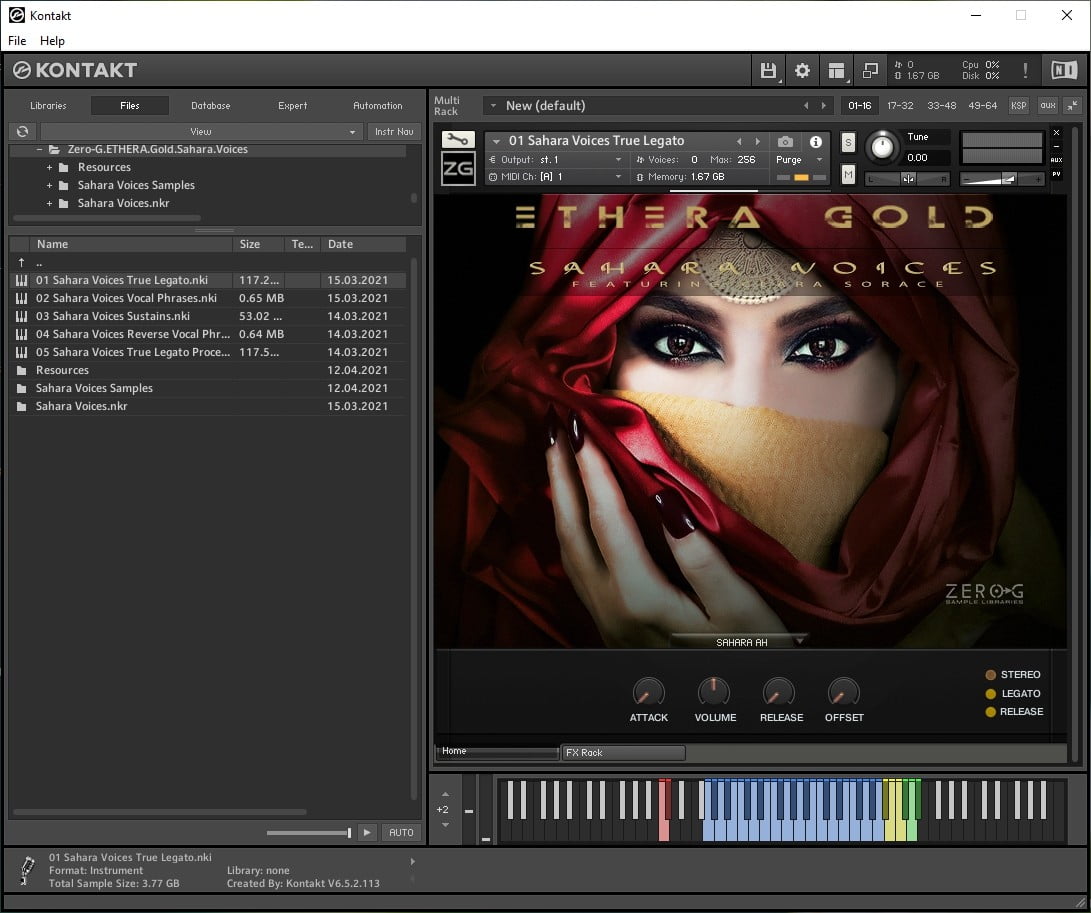 Publisher: Zero-G
Website: zero-g
Format: KONTAKT FULL & K'ed 6.5.2+
Quality: 24 bit 48 kHz stereo
---
Description: The perfect new tool for adding great ethnic vocals to your soundtracks.
The Ethera collection consists of: Ethera 2.0, Ethera Soul Edition, Ethera Soundscapes 2.01, Ethera EVI 2.0, Ethera Gold 2.5, Ethera Gold Intimate Vocals. If you already own some or all of the previous Ethera volumes, then Ethera Gold Sahara Voices will be a powerful addition to your Ethera collection. If you are new to Ethera, you will find that Sahara Voices is a terrific new tool to help and expand your creative possibilities in making music.
Ethera Gold Sahara Voices is not an add-on or extension to Ethera Gold 2.5, it is a standalone unique standalone product. All samples included in this library are brand new and unique.
The vocal instruments included in Sahara Voices use the great vocals of Clara Sorace. Clara has sung with many of the greatest soundtrack and video game composers and trailer makers. Her voice has a captivating blend of soul, ethnicity, epicness and emotionality with Latin charm.
With the Ethera series, we have developed the amazing True Legato series. Developing True Legato, as we did for the Ethera series, takes a lot of work and uses many, many samples. We sampled each interval in three different styles so that the user can choose using MIDI velocity (0 to 95 and 96 to 127) which legato interval is preferred for a given situation.
Description
Sampling the human voice is a big problem. We believe that with our Emotive True Legato and Epic True Legato, we bring you the best and most realistic vocal instrument on the market. However, the human voice is complex, which is why the Vocal Phrases tool is especially important. The Vocal Phrases tool provides you with hundreds of fantastic ready-made vocal performances. Imagine that you are composing music for a blockbuster trailer or video game, and you immediately need a voice with a great character that fits perfectly with your music. Well, this tool is for you! Or, if you need inspiration for your composition, this tool can be the starting point for creating your music.
It contains over 1600 ready-made vocal phrases, from dramatic to epic, from ethereal to modern, organized by BPM and KEY. There are many different keys (C, D, E, G, A), using timed mode with Pitch Shifting, you can cover all the key possibilities. With a + -1 semitone pitch change, the sound quality is still very good. The vocal phrase in E can be converted to F with +1 semitone, or the vocal phrase in C can be downgraded to B with a semitone shift.
Each vocal phrase has a different tempo: 95, 115, 130, etc. If you need to change your own tempo for the selected vocal phrase, you can use Time Mode. We suggest using only small tempo changes to maintain the quality of the original sample. For example, 115 to 120 BPM or 130 to 125 BPM, etc. Using Time Mode, the vocal phrase will sync with the tempo of the DAW.
This instrument contains many vocal phonemes, including melisma and sustain. The controls on the home page are similar to those on some other tools. With the RED rocker switches, you can select different articulations. With the modulation wheel (CC 91), you can control the intensity of the sound and mix with other vocal samples.
Characteristics :
– 5 multi-sampled Kontakt Instruments
– Approximately 6GB of 24 bit, 48KHz samples
– The Brand New Ethnic – Mid-East Vocal True Legato
– Sustains Instrument with 11 inspiring articulations controlled by Key Switches
– Custom Convolution Reverb
– Over 800 inspiring Ethnic – Middle Eastern Vocal phrases organized by Key
– BPM delivered also in open .wav format so you can easily drag & drop them into your DAW
– Reversed Vocal Phrases instrument
---