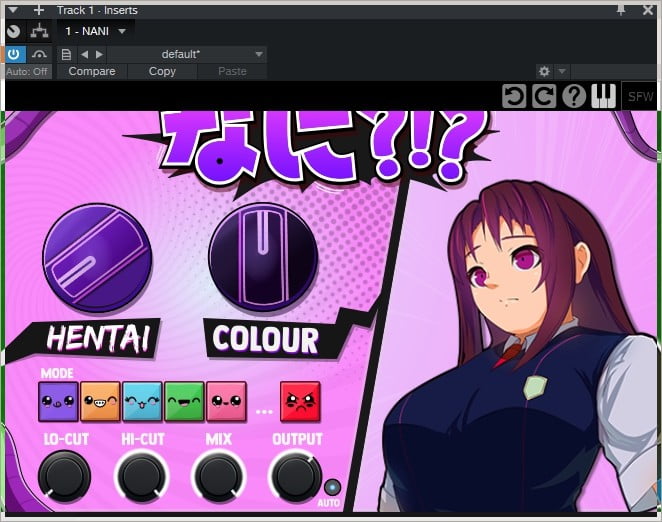 Year / Date of Issue: 05.2021
Developer: WXAudio
Version: 1.1.0
Developer site: naniplugin
Format: VST3
Bit depth: 32bit 64bit
Tabletka: cured | JustFun598
System requirements: Host with support for VST3 plugins
---
Description: Distortion with anime elements. Aggressive distortion meets giant anime bitches. Easy to use. Are you ready to hit the bottom?
– Five unique algorithms ranging from soft saturation to incredibly destructive distortion.
– Precise filtering, tone control and signal mixing for endless possibilities
New in version :
Added a new settings menu, and moved the react button to the settings menu.
Instead of adding more undescriptive buttons, we moved the different animation modes to a settings menu, which will also better detail what each mode does.
Added a new BPM based jiggle mode
The bpm mode will activate when your DAW is playing, otherwise, the plugin will temporarily switch to the default mode.
Added an information mode.
One of the NANI's short comings was not being able to see parameter information. Now with the information mode turned on, when you adjust a knob, a parameter value will display above the knob.
The tentacles now changer color with the color knob! This required a large redesign but should now make the tentacles stand out less when switching colors.
Slightly redesigned the trial menu, and added a purchase button to bring the user straight to the site.
Embedded the proper fonts for the trial menu. This will fix any issue of text not loading due to the user not having NANI's default text installed.
Fixed the automation parameter names from "High Pass" and "Low Pass" to "Low Cut and" High cut "to better fit the slider labels.
---