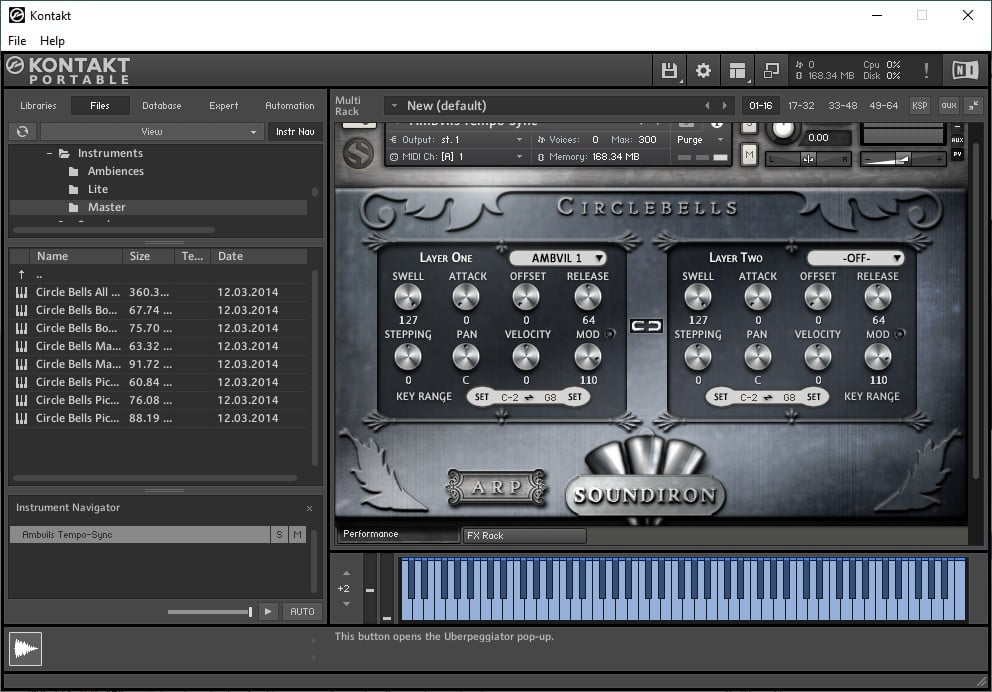 Publisher: Soundiron
Website: soundiron
Format: KONTAKT 5.1+
Quality: 24 bit 48 kHz stereo
---
Description: The Circle Bells Library was recorded using a rare and unique instrument called "Blossom Bells" created by local SF Bay Area master Pete Engelhart. This handheld percussion instrument features six steel conical bells, tuned to different heights and spaced at different distances. Each bell has a deep, warm and sonorous tone with long sustain and crystal clarity. We recorded them with soft hammers, hard sticks and an alto bow with singles / staccato and fills / sustains for each articulation. Its characteristic sound evokes the feel of a steel marimbaphone or celeste when played with hammers, but its character and wave-like resonance defies direct comparison to any other instrument.
The bells range in size from 2 "to 3 1/2" in diameter and are about 10 "long. Each note can last up to 10 seconds or more and carries a deep mixture of beautiful overtones. We recorded each one close to each other. Wide stereo. It is divided into three articulation sections: bow, hammers and sticks. We used the alto bow to create sustain and staccato. We used soft cloth hammers to play single notes and sustain fills, and hard sticks to play individual rolls. scraping and sustaining effects All articulations feature wide RR and deep dynamic velocity layering.
Each articulation is available as a separate preset or as part of a powerful dual-layer tool that allows users to shape and mix any two articulations, each with completely independent controls. Each preset offers a full rack of DSP effects, control over layer blending, tuning, and envelope shaping. Our advanced ARP system provides instant adaptive arpeggiations, step sequencing, scale / chord limiting, and auto-scrolling functionality with saving and recalling custom settings. You will also find a large selection of ambient and atmospheric effect presets created by the Soundiron team and experienced sound engineer and instrumentalist Steven Tavallone.
New in version :
This library was originally released by Tonehammer in 2009. We are now proud to present the new version 2.0 with many great new features that take it to a whole new level. The library now has a powerful multi-layer audio mixing user interface allowing you to create your own hybrid tones and multi-layer effects. You'll also find flexible key range adjustment, instant articulation switching, performance tuning with a range of important automatic sound parameters, a sophisticated arpeggio panel with step sequencer, a full suite of DSP multi-effects, dynamic shaping tools, resonant filters, tone control and convolutional reverb, and more. We've also added smart voice limiting and improved key mapping. While this huge library is rich in detailed, high-quality content and robust features, we've also included smaller "Lite" presets that are designed to conserve your system resources when you need them.
Specifications :
– Cloth mallet strikes: an average of 12 velocity layers with our standard 10 round-robins
– Cloth mallet rolls: modwheel controlled loops with 3+ velocity layers and 2+ round robins with release triggers
– Twin metal guitar pick strikes: an average of 12 velocity layers and 10x round-robin
– Twin metal guitar pick scratch effects: 8 layers and 8 round robins per layer
– Twin metal guitar pick scratch "rolls": modwheel controlled loops with 3+ velocity layers and 2+ round robins with release triggers
– Bowing sustains on all bells (fundamental notes and harmonics): 2+ velocity layers and 2+ round robin with release triggers
– Bowing staccatos on all bells (fundamental notes and harmonics): 2+ velocity layers and 2+ round robin
– Custom sculptable ambient drones, created using only the circle bells as source material
– 5.56 GB installed
– 2,893 Samples
– 22 .nki instrument presets
---