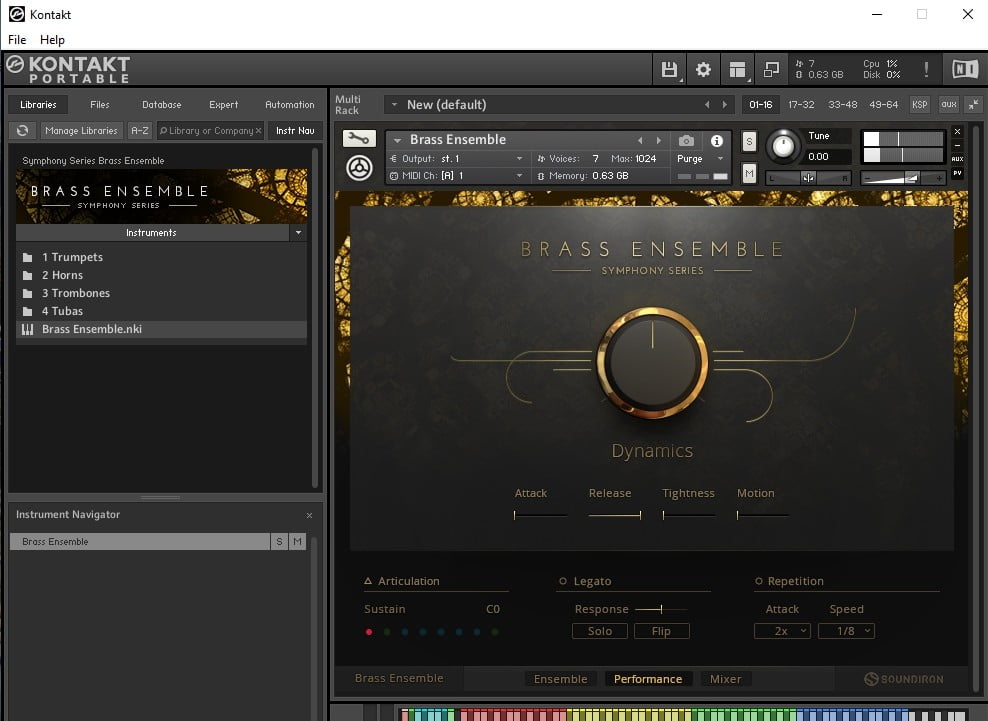 Publisher: Native Instruments
Website: native-instruments
Format: KONTAKT
Quality: 24 bit 48 kHz stereo
---
Description: Full-bodied, dynamic, natural sound. Proprietary interface for fast and inspiring orchestral performance.
A brass section of 32 instruments and the best soloists recorded in the prestigious acoustic space of St. Paul's Church in San Francisco. The BRASS instrument suite offers rich character sound and flexibility for any composing task.
BRASS is a highly flexible and comprehensive instrument set that includes true legato, up to eight RRs and a wide range of expressive articulations and techniques. The separate ENSEMBLE and SOLO libraries offer realistic performance and detailed mixing of both grouped sections and soloists.
SYMPHONY SERIES – BRASS offers flexibility, versatility and a creative workflow. With over 300 separate articulations, four separate microphones, onboard effects and ergonomic controls, this is the precise set of tools you need to complete any voiceover task, from film to games to studio.
Specifications :
• 47 GB (compressed)
• Separate ENSEMBLE and SOLO libraries
• 183 ENSEMBLE / 120 SOLO articulations
• True legato and legato emulation
• Time stretching for long articulations
• 4 microphone mixes with Mixer page
• Effects page with EQ, Reverb, Compression, and Filter
RECORDED SECTIONS (BRASS ENSEMBLE)
Trumpets (E3 – C6)
8 Bb trumpets
(with straight mute, harmon mute and cup mute recordings)
Horns (D2 – D5)
8 F / Bb double horns
(with stop mute recordings)
Trombones (E1 – D5)
8 players
Alto, Tenor, 3 F attachment Tenors, Contrabass, 2 Bass
Tubas (C1 – C5) 8 players
4 Euphonium, Contrabass, 3 Bass
MICROPHONE SETUP
Close
4 Neumann TLM 103s (cardioid, main array)
2 Neumann TLM 67 (omni, wide)
Mid
2 Neumann TLM 103 (cardioid, main array)
2 Neumann TLM 107 (omni, wide)
Far
2 Neumann TLM 103 (cardioid, far)
2 Neumann TLM 102 (cardioid, back of house)
---