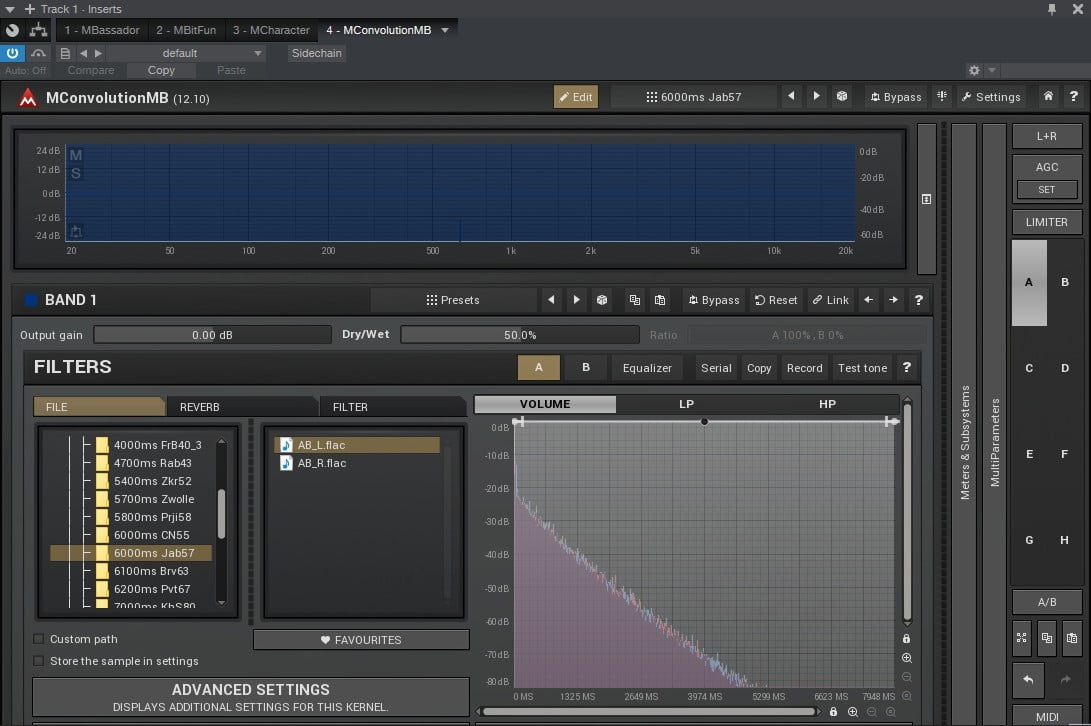 Year / Release Date : 12.2018
Version : 12.10
Developer : MeldaProduction
Developer website : MeldaProduction
Format : VST, VST3, AAX
Digit capacity : 32bit, 64bit
Tabletka : present
System requirements : Windows Vista / 7/8/10 (32 & 64)
VST / VST3 / AAX compatible host
Note: use 32-bit plugins for 32-bit hosts even if you are using 64-bit Windows
Description : MeldaProduction MTotalBundle – the newest collection of effects, currently has 100 plugins. MTotalBundle will turn your computer into a top-class professional sound studio. The set contains all the necessary effects for writing music, mixing and mastering. Includes both traditional effects and revolutionary technologies that will make the sound of your recordings incredible. High speed, simplicity, crystal clear sound and minimum noise level is standard in MeldaProduction.
MDrummer Pack :
Essentials – Required for MDrummer. It contains all the main resources – drums, rhythms, loops, samples … There are no studio acoustic drum and percussion libraries in the package – only electronics.
Studio2008 is the first acoustic drum package we recorded in 2008. It was remixed in 2018. Contains mostly acoustic drums, as well as bells, shakers … This multi-sample pack is great for cutting through the mix and can be used in many genres. All the drums were recorded using drum sticks, wrists, hammers and simple hands.
Studio2009 – was recorded in 2009 using several microphones and contains both acoustic drums and percussion. The package can be especially useful for various genres of acoustic music – from jazz to metal.
Studio2018 – Studio2018 is a huge new collection of acoustic drums and percussions recorded using multiple microphones. We sampled many high-end drum sets such as Yamaha Maple Custom, Pearl Masters Custom, Mapex Black Widow, vintage Slingerland and others. We also recorded about 20 Snarers, 7 Raids, 5 Hi-Hats, 15 Beautiful / Splash / Chinese plates and more. Further, there is almost any percussion that we wouldn't take: conga, bong, darbuka, djembe, shakers, tambourines … Everything was carefully processed and turned into multisamples, components and drum kits for ease of use. We also recorded hundreds of new loops and created many rhythms for both percussion and percussion. MDrummer 12.10 or later is strongly recommended for this package.
Those who do not plan to use MDrummer do not need to download the MDrummer Pack folder . And when installing, uncheck MDrummer
– Studio2018 MDrummerPack
12.10 changes
File lists are now sorted smartly and keep the order of ascending numbers.
All expression evaluators optimized.
Improved unit display for XY pads.
Spotify preset in MLoudnessAnalyzer now follows the recently changed -14LUFS target.
Fix: Expression evaluator in MUtility did not process samplerate "sr" unless written with capital letters.
Fix: Some devices in MTurboDelay were malfunctioning.
Fix: Copying MTurboDelay to MXXX would freeze.
Fix: Batch analyzing using MLoudnessAnalyzer would clear the meters after processing.
Fix: Record an IR using MConvolutionMB
Fix: MTurboDelay couldn't be noise in MXXXCore even if licenced.
12.09 changes
If you're having an EQ band,
Disabled mutliparameters now stop working completely, not only GUI-wise.
Added L + R option to MMultiAnalyzer for spectrum analysis.
Fix: Dynamics processors in logarithmic mode.
Fix: MSpectralDelay
Fix: Ctrl + Alt + Dragging in graph editors, which are not zoomable in both directions (time graphs for example).
Fix: MultiParameters in "checkbox boxes", where the MP was disabled.
Fix: Tabs displayed as popups might not have a title.
Fix: Super-resolution analysis analysis (might have been reported).
Fix: Randomizer multiparameters might have not worked.