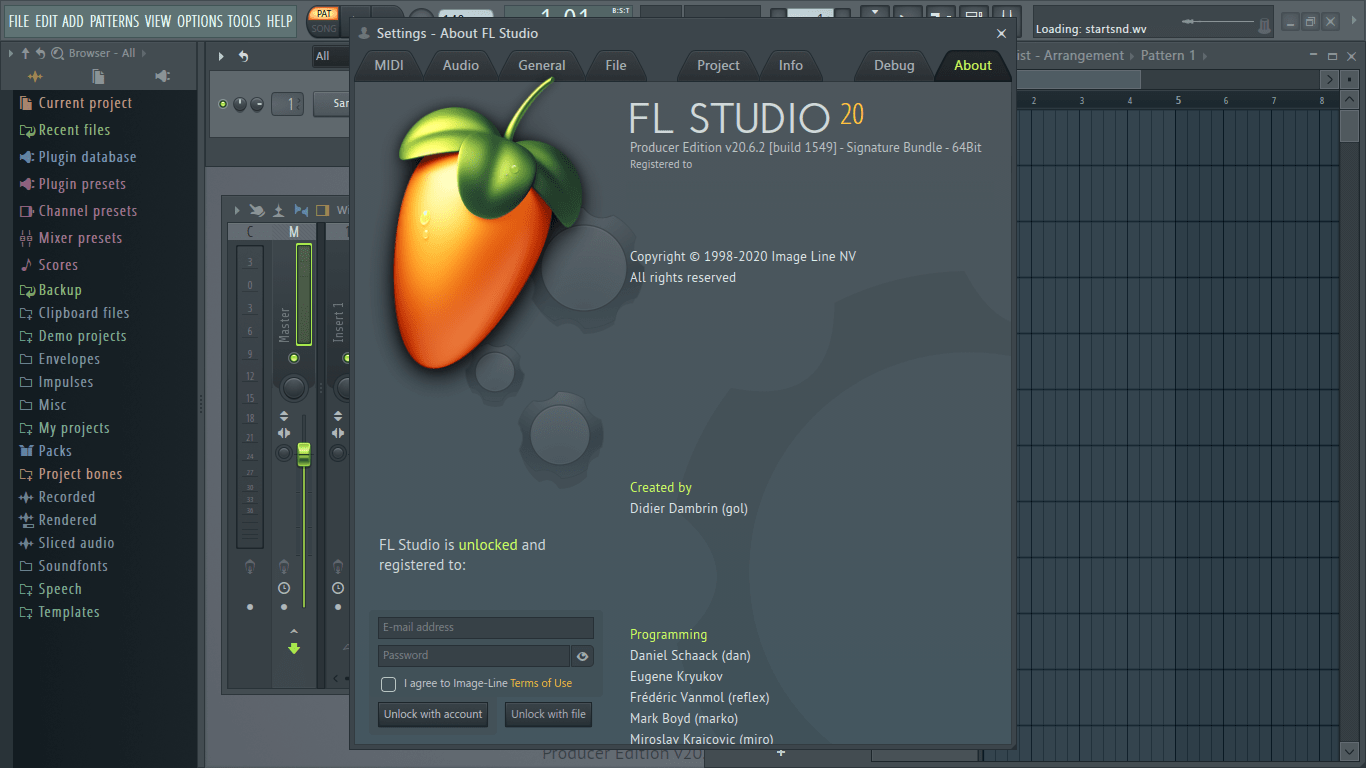 19.2.2020 Update: Correction No. 3
Year / Date of Issue : 19.2.2020
Version : 20.6.2.1549
Developer : Image-Line
Developer's site : Image-line
Bit : 32bit, 64bit
Interface language : English
Tabletka : present Patch
System Requirements : Windows 10 / 8.0 / 8.1 / 7
4GB free disk space
4GB of RAM or higher recommended
Soundcard with DirectSound drivers. ASIO / ASIO2 compatible required for audio recording (FL Studio installs with generic ASIO4ALL drivers)
---
Description : FL Studio is a new version of the best program in the world for creating your own music, with it you can create your own tracks of any style, also record vocals to mix it, edit, cut, change and even a million different functions for working with sound.
It is a complete music software, which is more than 14 years of innovative development. Everything you need in one package to compose, arrange, record, edit, mix. FL Studio is the fastest way from your brain to your speakers.
Now the program interface is easy to scale for any screen resolution of your monitor. New, more convenient installation sorting and launching VST plugins and tools. New tabs and categories have appeared in the browser, as well as the ability to delete content with the right mouse button.
---
[No. 3]
19.2.2020 Fixed: When adding tracks from the main menu, the message " Please consider purchasing legitimate copy … "
---
[No. 2]
15.2.2020 Fixed: The online panel is being removed, but … is returning
---
[No. 1]
15.2.2020 Fixed: The online panel is not removed
---
How to solve the problem with skinization and Russification of FL.
All necessary and instructions in the distribution
Changes
8500 Show warning when the user data folder is set to an invalid location
8501 ZGE Visualizer: added "BPM step" option to ImageMashup effect
Bugfixes
(common)
8466 Don't show admin warning when FL VSTi is started
8490 Crash updating PDC delay lines
8475 Crash opening projects with demo plugins
8463 "Drive not found" crash at startup
8252 Crash updating the screen of the Fire
8452 Freeze when dragging "Save score as …" menu item over the playlist button in the main toolbar
8449 Echo Delay / Fat Mode pitch control doesn't work with stretch when a time is set
8443 Adjusting properties of multiple notes in the piano roll doesn't work well for "X" and "Y"
8214 Steps can be added after pattern length
8461 Toolbar can become glitchy if a specific point is clicked with the mouse wheel button
8455 Blood Overdrive: high CPU usage in 32 bits
8454 Distructor: high CPU usage in 32 bits
8456 Dashboard: do not show unregistrable plugins in detected problems section
8434 Fruity wrapper: opening presets for VST3 plugins from .vstpreset files doesn't work
8500 Fruity Wrapper: crash with some plugins
8474 Fruity Wrapper: garbage characters in parameter names in Kontakt
8448 ZGE Visalizer: fixes and improvements to "Youlean Oscilloscope" and "Youlean Waveform"
8484 ZGE Visualizer: export failure when "Supersample" and "Uncompressed" options are both on
(macOS)
8493 Crash when the user data folder is set to a location that can't be written to
---