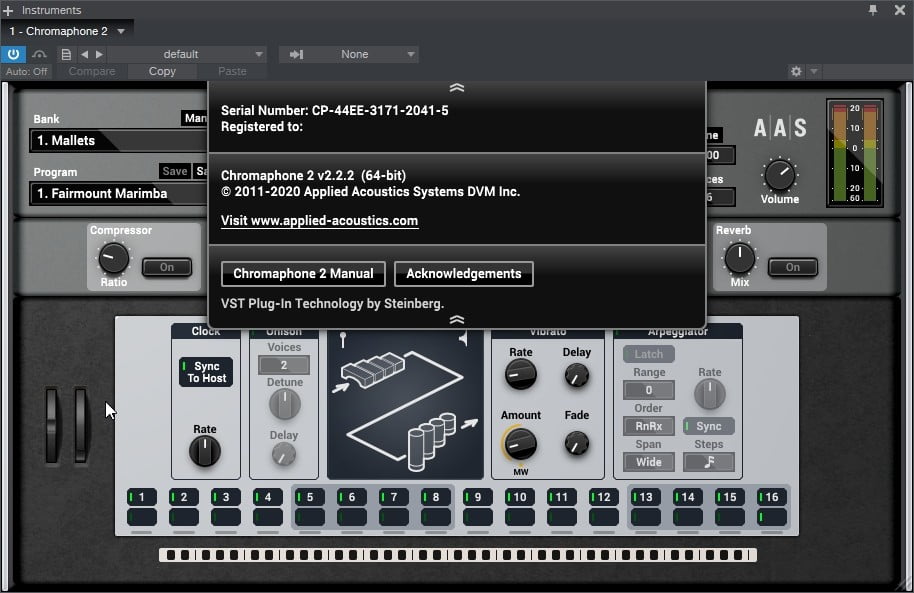 Year / Release Date: 05.2020
Version: 2.2.2
Developer: Applied Acoustics Systems
Developer's site: Applied Acoustics
Format: STANDALONE, VSTi, VSTi3, AUi
Bit: 32bit, 64bit
Tabletka: present
System requirements: Windows XP SP3 32-bit or Vista, 7, 8, or 10 32‑ / 64 ‑ bit \ Mac OS X 10.6 or later
Intel Core or equivalent processor
512 MB of RAM
70 MB of free hard drive space
---

Description: Chromaphone impresses with the full dynamics of acoustic accuracy.
An amazing variety of timbres: anything from a tiny meek strum to a massive roar of a giant frustrated gong. It is hard to imagine another software tool that is so versatile.
Factory Library: The fully-upgraded factory library has over 600 production-ready sounds classified for quick and intuitive searching.
Shockwave Resonator: This new model reproduces just like a real drum vibrates, resulting in super-realistic and responsive drums and percussion.
Envelope mode: The envelope generator for the noise source is now equipped with AHD mode to accurately accent each bit.
Noise Filter: Now the spectrum of noise sources can be adjusted using a 10-band filter for fine control of tone.
Low-pass filter: Resonators have been supplemented with a low-pass filter to control the clarity of the response of the instrument.
Arpeggiator: Add movement and give a new perspective to sounds with the new built-in arpeggiator module.
Sound Source Mixer: Controls hammers and noises to create attack accuracy and maintain the phase of sounds.
Compressor and EQ: These new add-ons are perfect for adding punch and clarity to your sound, allowing you to cut through any dense mix.
Limiter: A new output limiter protects your ears and monitors during experiments with synthesizer parameters, providing maximum dynamics without distortion.
Optimized interface: Redesigned from scratch, the new interface now divides the Chromaphone into three panels: the Play panel presents shortcuts for performance parameters and effects, including bypass switches for quick editing; the Edit panel allows you to customize and create your own sound; The FX panel contains an equalizer, compressor, multi-effect and reverbs for a final shine.
Changed effects: The updated and polished multi-effect Chromaphone processor features the best sounding of chorus, delay, phaser, flanger, distortion, filter, wow-wow, auto-wow and reverb today!
Microtonic tuning: Chromaphone now supports Scala file format for creating microtonic music.
Melodies, beats and crazy soundscapes: Chromaphone uses acoustic resonators to create percussion, percussion, milk, string and other unique instruments.
Library: Chromaphone 2 has over 650 presets from the best sound engineers. Instruments range from warm and soft percussions for tunes to punching individual or complex elements for rhythm tracks. Woven together, they generate unique textures and soundscapes that will liven up any movie. Whether these sounds are real, otherworldly or with an ethnic touch, Chromaphone will fill your music with rich and organic tones.
Content: Chromaphone has excellent features: keyboard modes, unison, portamento and sliding functions, as well as a full range of MIDI functions. And for even greater capabilities, Chromaphone provides a custom programmable pattern arpeggiator and high-quality effects.
Editing Simulation-based synthesis gives you access to all parameters of a sound source and resonator. Customize your instruments to perfectly follow your inspiration and create a completely new, truly creative and innovative sound design.
From start to finish: With over 670 presets distributed across 19 categories, Chromaphone 2 contains everything you need to create all the parts of your mixes.
Creative drums: Chromaphone comes with ready-made creative patches, where each note carries a new sound, slightly different from the previous one. Across the entire range of keys, sound is transformed from a bass drum to a snare and then to a hi-hat. Discover a mixture of electronic and acoustic qualities intertwined to form exciting and always fresh drum sounds.
Arpeggiator: offers various synchronization resolutions, playback algorithms and rhythmic patterns that will turn any chord progression into beautiful melodies or rhythmic sequences.
---
Activation :
* All launches of installations, kijen, patchers are done on behalf of the administrator during any installation and activation. Nowhere and no folders from where \ where the installation will be carried out all the way, to the entire address, should not contain cyrillic signs (exceptions are system folders such as Users). Also, the computer name and account must be in Latin. You must be an administrator on the system. In the system for these plugins you must have Microsoft Visual C ++ 2005-2008-2010-2012-2013-2015-2017 installed. No need to create nesting dolls from 15 folders and download there. Due to long file / folder names there will be an error during installation. Download to the root of the disk.

1. In the tool authorization window, click: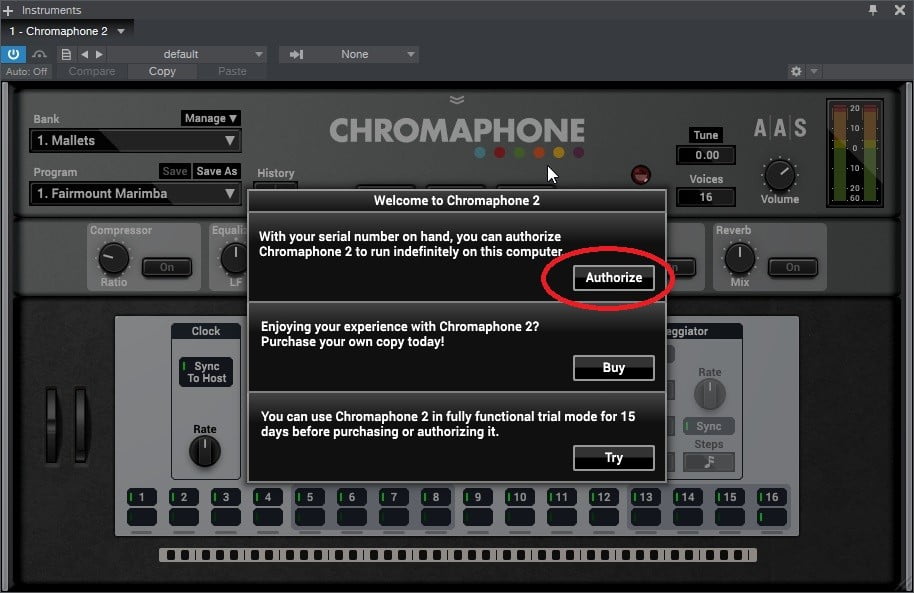 2. Launch kijen, select a product, copy the Serial Number to the authorization window and click on the Authorize button: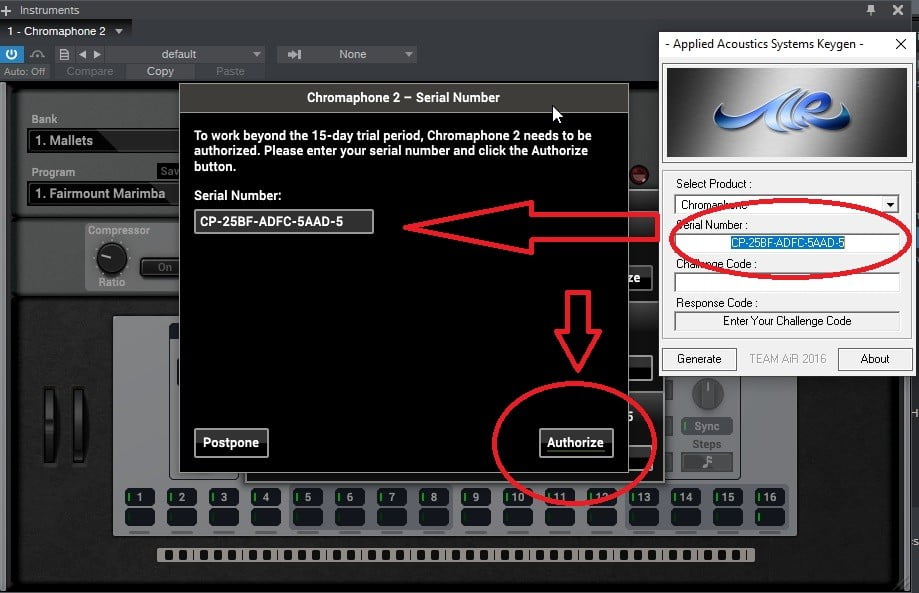 3. In the updated window, click on offline authorization: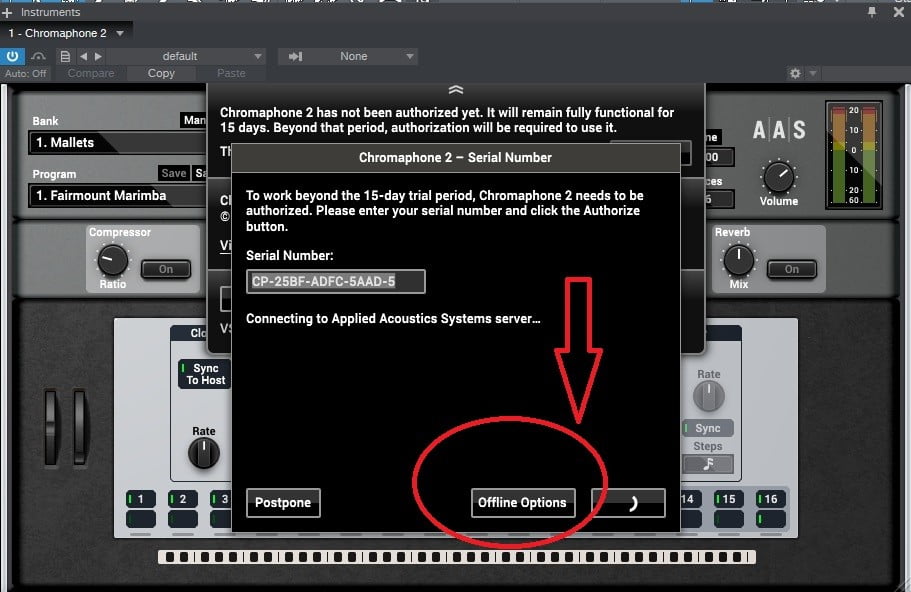 4. Next, copy the Challenge Code tool from the authorization window, paste it into the appropriate field in the kigen and click on the Generate button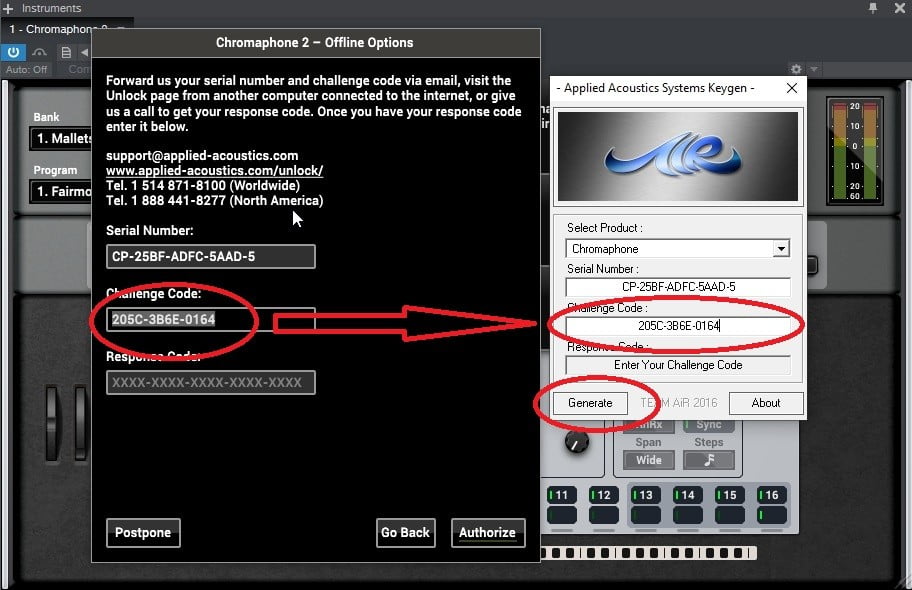 5. Copy the Response Code generated in kigen to the corresponding field in the tool authorization window and click on the Authorize button: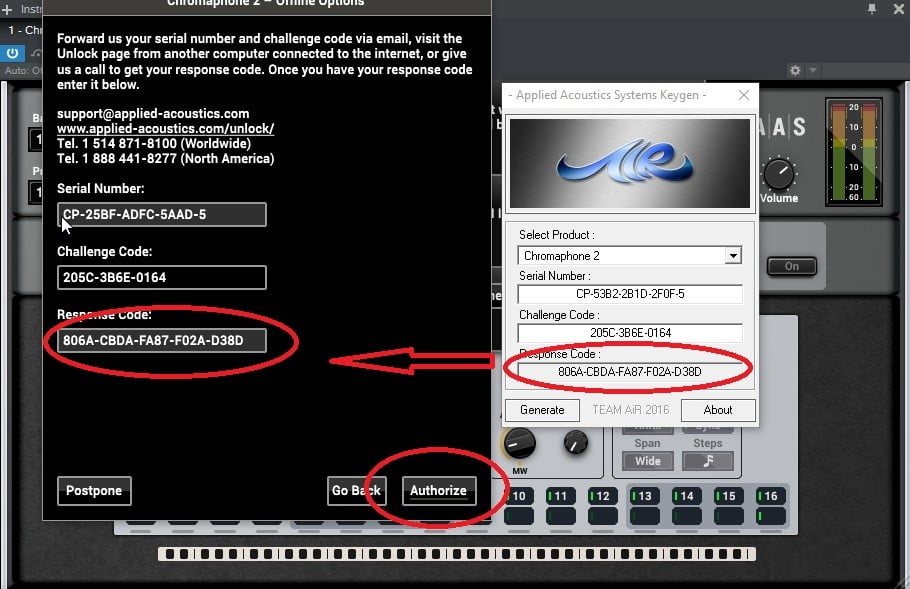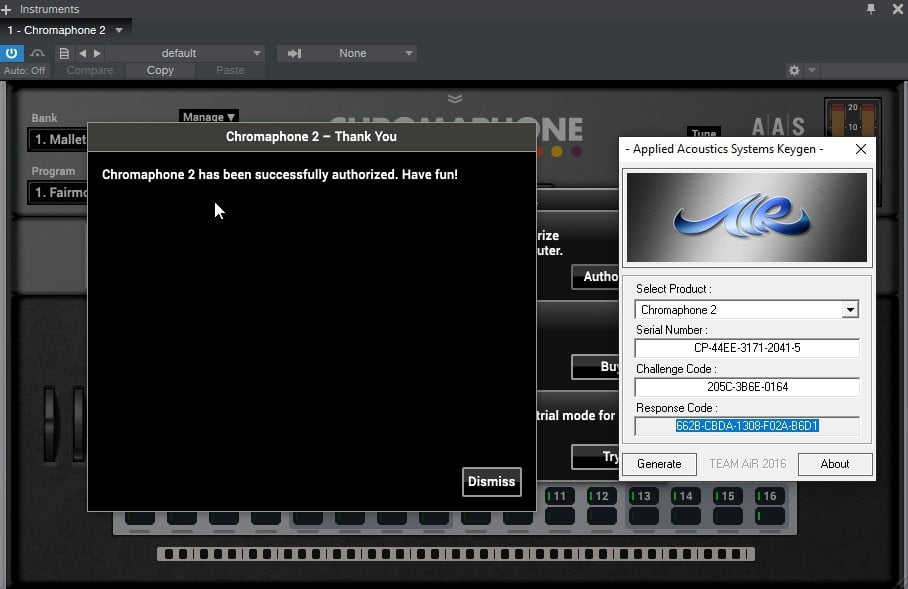 ---