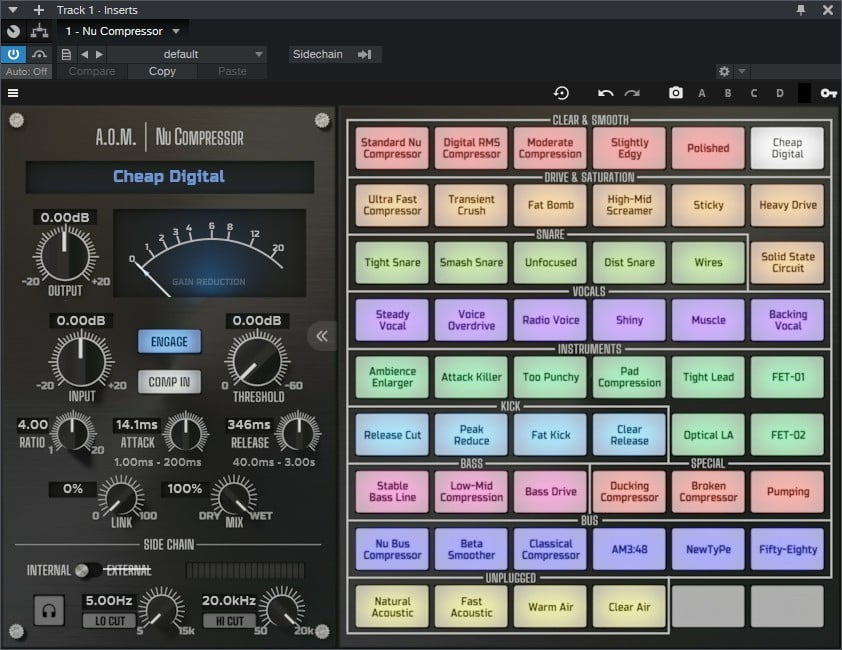 Year / Release Date: 09/20/2020
Version: 1.11.0
Developer: A.O.M. Factory
Developer site: aom-factory
Format: VST, VST3, AAX
Bit depth: 64bit
Tabletka: present | R2R
System requirements: Microsoft Visual C ++ Redistributable for Visual Studio 2019 x64, Windows 8.1 / 10 (according to user reviews, it starts and runs on WIN7), x64 compatible processor with SSE3
---
Description: Plugin set from A.O.M. Factory:
Cyclic Panner
Invisible Limiter
Invisible Limiter G2 – Powerful Limiter with Precise Control
Nu Compressor – Offers 52 types of compression in one plug-in, making it suitable for a wide variety of studio applications. According to the developers, the compressor is as versatile as possible. Users can choose from several specific options for musical instruments (bass drum, working, bass, guitars, vocals), as well as emulation of classic compressors – FET, optical, etc. In addition to this, the compressor offers non-standard compression options – complete elimination of transients, elimination of frequencies in the midrange.
Sakura Dither – dither plugin
Stereo Imager D is a decorrelation-based stereo expander. Conventional stereo expanders (using M / S expansion) cannot hold the stereo information of the signal source. Such plugins sometimes emphasize the elements of the sides of the input signal, however, such processing easily spoils the tonal balance and stereo field.
tranQuilizr is an equalizer with clear, transparent sound, offering 6 bands and high low pass filters.
tranQuilizr G2
Wave Shredder is designed to bring madness to your tracks. Wave Shredder is a collection of destructive processors: Rate Reducer, Zero-time Gate, Waveform Cut & Fold, Chopper and Bit Crusher.
Description of modules
Cyclic Panner is a unique zoom / panorama control tool
Invisible Limiter – transparent look-ahead brickwall limiter with automatic timing of attack / release parameters. The Invisible Limiter algorithm reduces the difference between original and processed material. This behavior avoids coloring your material from the final limiting stage. Even with fairly rough processing, it is difficult to distinguish between the material before and after processing.
---